German automotive supplier ZF Friedrichshafen AG – participant of COMTRANS 2021 – launches its most advanced autonomous emergency braking assistance system for commercial vehicles in China. According to ZF, OnGuardMAX will be installed in new truck models by two leading Chinese manufacturers from this year. Sophisticated data integration with state-of-the-art camera and radar supports the system in autonomously detecting, classifying and responding to moving and stationary vehicles, including motorcycles and bicycles.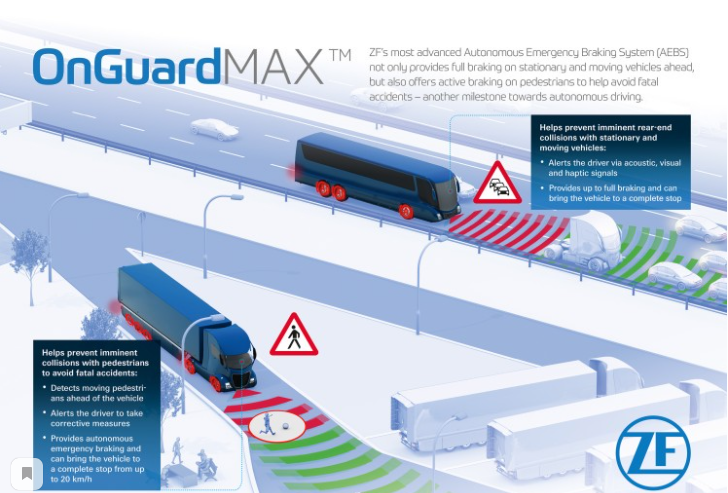 As soon as an obstacle is detected, the OnGuardMAX system warns the driver of imminent collisions and, if necessary, can autonomously bring the vehicle to a complete stop. This advanced object detection and autonomous braking capability further enables the new ZF system to help avoid or mitigate accidents involving pedestrians.
If the driver does not take the necessary maneuver, the system can automatically stop the vehicle at speeds up to 80 km/h. This innovative technology significantly improves road safety, which reduces repair costs and vehicle downtime associated with accidents.
"In the commercial vehicle sector, the introduction of autonomous driving functions has particularly strong potential," says Wilhelm Rehm, Member of the Board of Management of ZF and responsible for Commercial Vehicle and Industrial Technology. According to him, Further ZF developments will also head in this direction.
https://press.zf.com/press/en/releases/release_26051.html