17.02.2021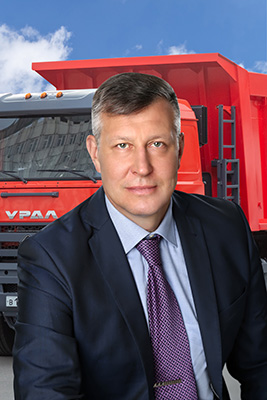 The URAL Automotive Plant officially announces participation in COMTRANS 2021
Pavel Yakovlev, the General Director of URAL Automotive Plant:
'The URAL Automotive Plant traditionally exhibits at the COMTRANS trade show. Russian Federation is the major market for us while COMTRANS is the largest and most visible international event for the automotive industry in our country. That is why we need to exhibit noticeably, with the widest possible product range. For us, COMTRANS is the platform where we can grow our client base, network with colleagues and partners, showcase our latest innovations.
I am especially pleased to announce that 2021 is the anniversary year for URAL. Our plant was founded 80 years ago. We are happy to celebrate the jubilee by presenting a range of new vehicles at COMTRANS 2021.
As always at COMTRANS, URAL will have a big press conference for media, round tables for potential partners, and practical seminars. Our management and specialists will have an opportunity to network with a big number of other automotive and transport industry experts, government and regulatory bodies representatives. Visitors' interest in our vehicles and the whole professional feedback got during the exhibition will give a solid basis for further development of our enterprise.'
About the URAL Automotive Plant
The URAL Automotive Plant (www.uralaz.ru) is one of the largest truck manufacturers in the Russian Federation. URAL produces all-wheel-drive trucks and chassis 4x4, 6x6, 8x8 with load capacity from 4 to 20 tons, truck buses 4х4 and 6х6, trucks 6х4 including tractors, dump trucks, and chassis for special and utility vehicles. The flagship URAL Next is available in more than 250 modifications including truck buses, crane trucks, tank trucks, fuel trucks, fire engines, mobile workshops, oilfield and mining services trucks, logging trucks, municipal utility vehicles. URAL trucks are sold in 40 countries worldwide. The brand's share of the Russian all-wheel-drive trucks market is 30%. The authorized dealer and maintenance network of URAL includes over 100 locations throughout the territory of the Russian Federation.